5th – 7th March, 2020
Getting to the venue
IMPORTANT REMINDER: Please note, for entering Serbia you need a valid passport.

The meeting will be held at the main building of the Serbian Academy of Sciences and Arts (SASA) which is in the center of the city (main pedestrian Street, 35 Kneza Mihaila, Belgrade) and very well connected to many hotels, hostels, etc. (hyperlink to map below). The Buffet lunches and Coffee breaks (Thursday, Friday and Saturday) will be held at SASA Club, 1st floor.
Belgrade Nikola Tesla Airport is situated at the outskirts of town (hyperlink to map below).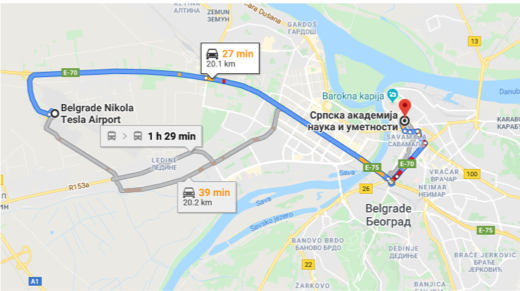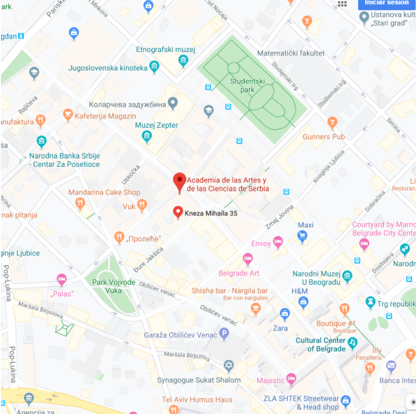 Accommodation
As you already know, you are not obligated to book a specific hotel but the Local Organizer, Magdalena Stevanovic, has obtained group discount for this one:
Courtyard Belgrade City Center (4 min walking)
(Hotel(s) offering your special group rate: Courtyard Belgrade City Center for 105€ per night - click HERE for reservation)
Last Day to Book: Friday, February 14, 2020
Cancelation Policy: From February 25, 2020 all cancelations will be
fully charged
Furthermore, there are some hotels very close to SASA building (maximum 120€/night) such as:
Belgrade Art Hotel
Hotel Moskva
Hotel Palace
Useful telephone numbers and information
You can find some useful information regarding currency, city transportation, etc by clicking here.
CURRENCY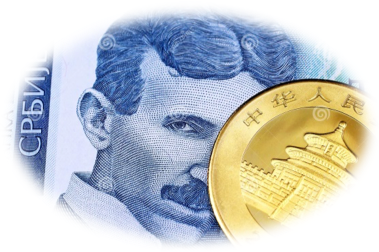 The official tender in Serbia is dinar, abbreviated RSD. Money may be exchanged in all banks and post offices, as well as in authorized exchange offices.
The current exchange rate may be checked on the website of the National Bank of Serbia
TRANSPORT
Belgrade city public transport is provided through a network of bus, trolleybus and tram routes run by GSP "Beograd" and bus services operated by private bus companies, on around 130 routes.
Local TAXI companies (click here)
Attendants
Attendants are not required to bring their own laptops but please, bring an adaptor if your laptop has neither HDMI nor VGA inputs.
Conference Dinner (SESIR MOJ)
Group dinner is planned for Friday evening, 6th of March at 19:00 pm at a national restaurant in Skadarlija. The name of the restaurant is "SESIR MOJ" (the most visited tavern in Skadarlija) (click here). The address is SKADARSKA 21 (SKADARLIJA) (close to the SASA building).
18:45 Meeting point will be in front of the SASA building on Friday evening

19:00 Group dinner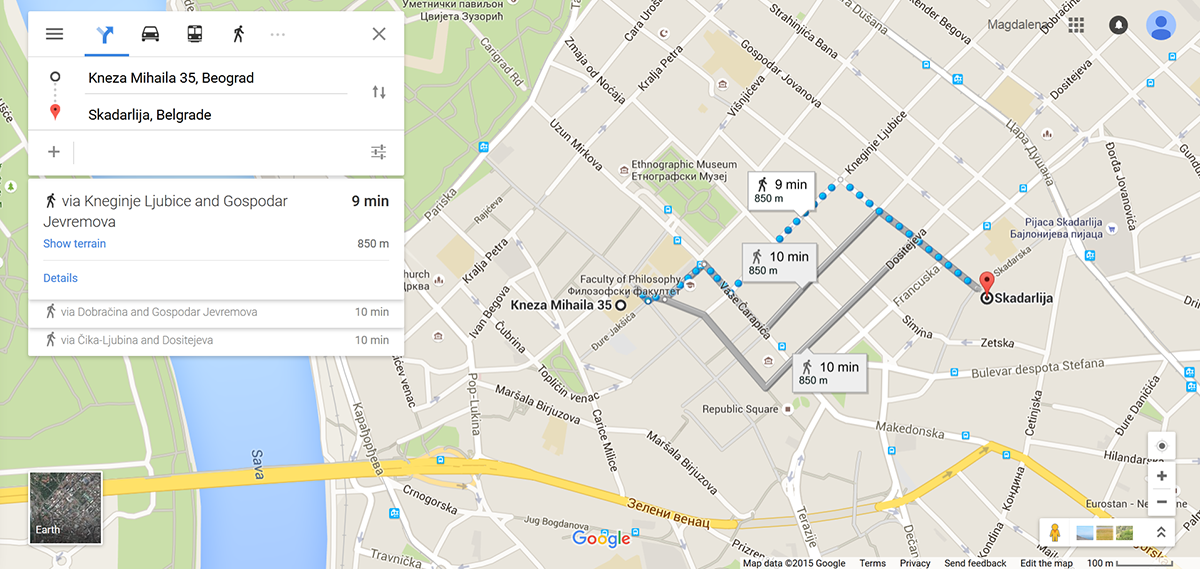 Claiming expenses
All attendees (trainers and trainees) must register for an e-COST profile at https://e-services.cost.eu. Each participant must add their bank details to their e-COST profile.
Only economy class air tickets are eligible to be reimbursed;
Seat reservations and luggage transportation expenses are eligible to be reimbursed.
Administrative charges by travel agencies are eligible to be reimbursed.
Workshop Programme
First day (March 5th): MC meeting - SASA, 2 Hall, 1st floor.
It will be dedicated to the Core meeting Group (15 people maximum). After lunch will start the Management Committee Meeting (for MC members and the MC substitutes) with up to 56 members of ENIUS.
Second day (March 6th): Workshop of the Working Groups – halls and SASA club
It will be dedicated to Workings group Meeting, where the members of the 6 ENIUS Working groups discuss and update themselves on the tasks and activities of each group. Four of the groups will meet at several halls of SASA and the other two at SASA club.
Third day (March 7th): Workshop "Advances in Urinary Stents Technology" - SASA, 2 Hall, 1st floor.
Workshop dedicated to new technologies and open to the public (45-56 members of the MC + 8-10 members of ENIUS). Lectures will be held at SASA, 2 Hall, 1st floor.
MC Meeting Agenda
---
Lecturers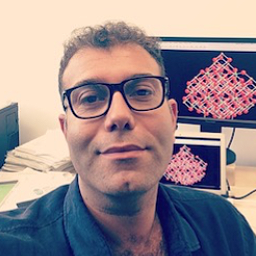 Ali Abou-Hassan
Dr. Ali Abou-Hassan is an Associate Professor at Sorbonne University, Paris, France. His research deals with strategies combining microfluidics and inorganic physical-chemistry. Fascinated by out of equilibrium phenomena he also studies the growth of materials in a biomimetic approach assisted by microfluidics and nanomaterial bio-modifications in cells using material science approaches.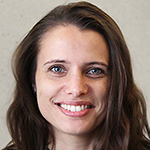 Fabiola Costa
Fabíola Costa is currently Junior researcher at i3S - Instituto de Investigação e Inovação em Saúde, and Assistant Professor at Instituto de Ciências Biomédicas Abel Salazar (ICBAS) of the University of Porto. With a background of Pharmaceutical sciences (Bsc) and a Master in Applied Microbiology, she decided to focus on the development of antimicrobial coatings during her PhD in Biomedical Engineering at Faculty of Engineering of the University of Porto (FEUP), where she graduated Cum Laude.
Fabíola Costa is dedicated to the development of antimicrobial coatings through antibiotic-free strategies, namely by applying polymers with intrinsic antimicrobial properties or by chemically modifying polymers with Antimicrobial Peptides.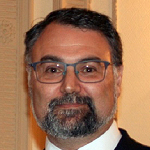 Federico Soria
Dr. Federico Soria (PhD). (Chairman. ENIUS) is Endoscopy Coordinator in Jesus Uson Minimally Invasive Surgery Centre (Spain) a multidisciplinary institution devoted to Research, Innovation and Training in health sciences. Dr. Soria research is focused on Traslational Research (Preclinical) Minimally Invasive Surgery Urological techniques and devices. A special focus area is urinary tract stents design: Biodegradable, Drug eluting stents and metallic designs and Biomaterials in Urology. Researcher in more than 30 research projects, 16 as a principal investigator. Three patents in Biomedicine devices (ureteral stents). More than one hundred scientific papers.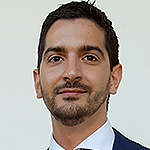 Francesco Clavica
Francesco Clavica is researcher at the ARTORG Center for Biomedical Engineering Research (University of Bern) and at the Center for Artificial Muscle (EPFL). He studied biomedical engineering at Politecnico di Milano and received the Ph.D degree in Biofluid Mechanics at Brunel University London. His research interests lie in the application of engineering methods to medicine and biology with special focus on experimental fluid dynamics applied to cardiovascular and urinary system. He is coordinator of the Urogenital engineering group and co-founder of UroDEA (a spin-off company of the University of Bern).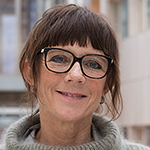 Ingelin Clausen
AN ADVANCED MICRO AND NANOTECHNOLOGY SOLUTION FOR MONITORING OF URINARY BLADDER PRESSURE
PhD Ingelin Clausen is the CEO and Founder of Uro Bionics, a Norwegian deep-tech startup offering an advanced, high-quality sensor system for monitoring of urinary bladder pressure. In her former position as Senior Research Scientist at SINTEF, Ingelin invented and developed the solution in close collaboration with clinicians. The solution is based on micro and nanotechnology and measures the pressure directly in the bladder. A prototype has successfully been tested in pilot patients. A presentation of the solution will be given together with plans for launching the solution into the market.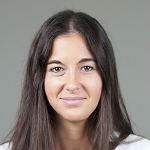 Julia E de la Cruz Conty
Qualified in Veterinary Medicine from the Complutense University (Madrid, Spain) in 2014. Researcher and PhD Student at the Endoscopy Unit in the "Jesús Usón Minimally Invasive Surgery Centre" (Cáceres, Spain), focused on translational research and surgical training. Line of research in endourology: new designs and biodegradable ureteral stents.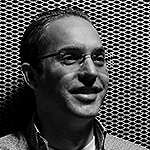 Martijn Riool
Dr. Martijn Riool is postdoctoral researcher in the group of Dr. S.A.J. Zaat at the Amsterdam UMC (location AMC), which focuses on biomaterial-associated infection and novel antimicrobial strategies. Within the European consortium BALI, he developed novel tools to control biofilms by targeting both the prevention and treatment of biomaterial-associated infections, using the unique combination of Synthetic Antimicrobial Antibiofilm Peptides (SAAPs) and a controlled release system. Currently, his work is focused on customized treatment strategies for cranioplasty, and at developing a multi-functional supramolecular polymeric biomaterial with cell-adhesive and antimicrobial activity. Moreover, he is vice-chair of the European network AMiCI "Anti-MIcrobial Coating Innovations to prevent infectious diseases".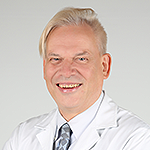 Noor Buchholz
MBBS (D), MD (CH), FSSU (CH), FKNMG (NL), MFMLM (UK)
Dr. Noor Buchholz was trained in Germany, Switzerland and Australia. He has worked as a Consultant Urologist in Pakistan and in the Netherlands, and for 14 years in the United Kingdom where he was the Director of Endourology and Stone Services at the Royal London Hospital. In 2014, he has moved his practice to Dubai/ UAE.
Dr. Buchholz is a leading expert in minimally invasive urological surgery in general, and stone treatment in particular. He is a worldwide recognised expert in shockwave lithotripsy, the treatment of urinary stones, endourology and laparoscopy. He is also the world's leading expert in the novel technology of permanent metal stenting of the urinary tract.
For more than 10 years, Dr. Buchholz has been one of only 46 trainers worldwide recognised by the International Endourology Society (IES) for Endourology and Stone treatment, and the first such recognised trainer in Europe by the European Board of Urology (EBU). He was awarded multiple grants and awards. He is author on more than 350 original articles in scientific journals and book chapters. He sits on the editorial board of many international urological scientific journals, and is a peer reviewer for many more.
Dr. Buchholz sat also on the board of the stone section of the European Association of Urology (eULIS-EAU) for 8 years, which is responsible for guidelines, training and standards in stone treatment, both in European and worldwide. He was member of the Board of Directors of the Societe Internationale d'Urologie (SIU). He is founder and chairman of Experts in Stone Disease (ESD) organising global scientific meetings.
Dr. Buchholz is the Founding Director of U-merge (Urology in emerging countries), a society that been created to promote medical and urological education and training in emerging countries to elevate the worldwide standard of urological care for patients. As such he organises teaching and training activities from one-to-one tutoring to major international conference.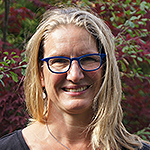 Petra De Graaf
Dr. De Graaf studied chemistry, followed by a PhD in Biology (2001). After several years in biomolecular fundamental research, she shifted to translational research (2014) in the department of Urology. Her research goal is to generate a tissue engineered (TE) source of urethral tissue for use in urethral reconstruction. Ideally, a TE urethra mimics the native urethra, consists of multiple cell layers of different origin, protects the underlying tissue as an efficient barrier from urine, is vascularized and resistant to mechanical forces during surgery. As in many patients undergoing urethral reconstruction surgery, the surrounding corpus spongiosum is either absent (in hypospadias patients) or affected by fibrosis, the aim is to integrate the corpus spongiosum in the TE graft, providing the natural vascular environment.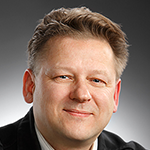 Seppo Vainio
Seppo Vainio is a professor of developmental biology at the University of Oulu, Finland. He also serves as a member in Borealis Biobank of Northern Finland. He is a team leader in InfoTech Oulu organization. Vainio received his PhD in embryology in Helsinki University, and completed his postdoctoral training at Harvard University Since then he has worked as a professor at Oulu University. At present he integrates human kidney diseases in Biocenter Oulu projects and develops programmed organoid studies and via the biobank to disease diagnostics. In the InfoTech Oulu the focus area is novel biosensor strategies. Vainio is the author of over 160 scientific publications, and served as a member of Center of Excellence of Cell Matrix research in Oulu University and today university science council. He serves on the editorial board of Scientific Reports and belongs to professional organizations including the Finnish Society Developmental Biology.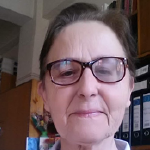 Todorka Vladkova
Todorka Vladkova is a chemical engineer with DSc and PhD in polymeric materials at UCTM, Sofia, Bulgaria. Her research includes development of advanced biomaterials, antimicrobial composites and coatings. She is expecting to contribute to the antimicrobial protection of the urinary stents.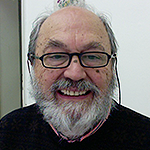 Yannis Missirlis
Professor Yannis Missirlis graduated as Chemical Engineer from the NTUA (Athens), received a M.Sc in Chemical Engineering, (Syracuse-USA) and his Ph.D. from Rice University (Houston) in Biomedical Engineering.
He was Assistant /Associate Professor at McMaster University (Canada) and Professor of Biomechanics and Biomedical Engineering at the University of Patras .
His interests include cell-material interactions, mechanotransduction, tissue engineering, biomechanics from nano-to macro level.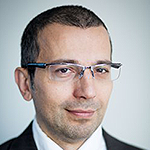 Zoran Markovic
Major scientific interest of Zoran Markovic is exploitation of optical properties of carbon nanomaterials and molecules (fullerene, carbon nanotube, graphene, carbon quantum dots, curcumine, chitosan) and polymer (polyurethane, PDMS, hydrogels,biocellulose) composites for nanomedical applications-photodynamic or photothermal therapy of cancer and microbes. Research field is biomaterials and nanomedicine.